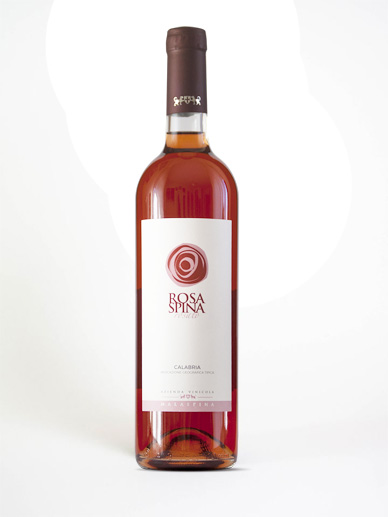 Rosa Spina [rosé]
Classification: Calabria indicazione tipica rosato
Grape varieties: gaglioppo 100%
Harvest: hand-picking, 2rd week of september
Fermentation: in steel tanks
Fermentation temperature: 16°C
Vinification:  cryomaceration, soft pressing, fermentation under controlled low temperature
Period of fermentation: 13 – 14 days
Maturation: aging sur lie 4 months
Alcohol: 14% by vol.
Tasting notes
Colour: cherry red
Scent: intense, fruty, flowery, whith delicate notes of strawberries and roses
Palate: quity full, dry, fresh and balanced
Service temperature: 14 – 16° C
This bright wine is a very good expression of Gaglioppo grape.
It offers very delicate shades similar to the colour of some varieties of cherries and notes of little red fruit and strawberries.
It's particulary versatile because it goes well with fish soup, dishes based on swordfish, vegetables and white meat.
Contacts
Azienda Vinicola Malaspina
Via Pallica, 67 - Melito di P.S. (RC)
Phone:
0965.781632 - fax 0965.788947