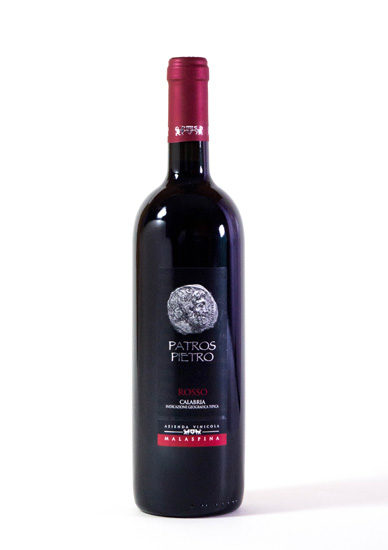 Patros Pietro [red]
Classification: Calabria indicazione geografica tipica rosso
Grape varieties: magliocco 100%
Harvest: hand-picking, from the 1st to the 2nd decade of october
Fermentation: in steel tanks
Fermentation temperature: 26 – 28° C
Vinification: long maceration under controlled temperature
Period of maceration: 12 days
Maturation: 8 months in french oak
Alcohol: 14,5% by vol.
Tasting notes
Colour: deep ruby with purple shades
Scent: intense, beautiful notes of red fruits (cherry, mulberry, black currant) and delicate hints of vanilla
Palate: full, very powerful concentrated, with gentle tannins seducing the palate and final warm sensation
Service temperature: 17 – 18° C
Patros Pietro want to be an homage to Pietro Malaspina. Like him Patros is solid and full of dignity. It holds the power and the elegance of Magliocco, one of the most interesting and appreciated calabrian grape varieties.
Ideal accompaniment of reast or grilled meat or lamb, braised beef, game and seasoned cheese.
Contacts
Azienda Vinicola Malaspina
Via Pallica, 67 - Melito di P.S. (RC)
Phone:
0965.781632 - fax 0965.788947