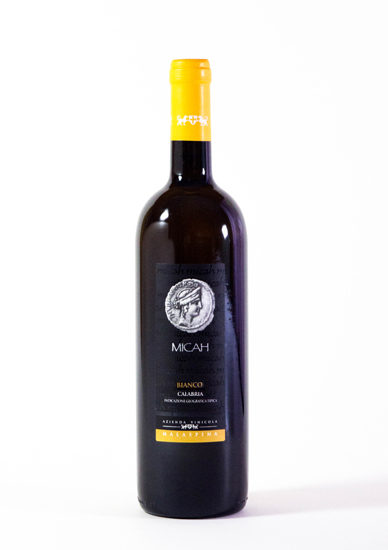 Micah [white]
Classification: Calabria bianco indicazione geografica tipica
Grape varieties: greco bianco 100%
Harvest: hand-picking, 1st decade of september
Fermentation: in steel tanks
Fermentation temperature: 15°C
Vinification:  cryomaceration, soft pressing, fermentation under controlled low temperature
Period of fermentation: 12 days
Maturation: batonages, aging sur lies for 5 mounth
Alcohol: 13% by vol.
Tasting notes
Colour: straw yellow with golden shades
Scent: intense, fruty, flowery, with delicate notes of pineapple, mature peach and citrus fruits. Elegant.
Palate: dry, watm, fresh and balanced
Service temperature: 12 – 14°C
This wine is characterized by a great generous baggage of scent which are expression of territory. this complexity makes it an extremely versatile wine: it is ideal for accompanying dishes based on swordfish, sea foods, costardelle in timbale, lamb, low seasoned pecorino cheese.
Contacts
Azienda Vinicola Malaspina
Via Pallica, 67 - Melito di P.S. (RC)
Phone:
0965.781632 - fax 0965.788947